Telehealth
Now is the time...Deliver your same high-quality professional services virtually
Treat members at a time that works, and a place that's safe and secure for both of you. Through telehealth, you can have real‐time, two‐way communication via secure online virtual sessions.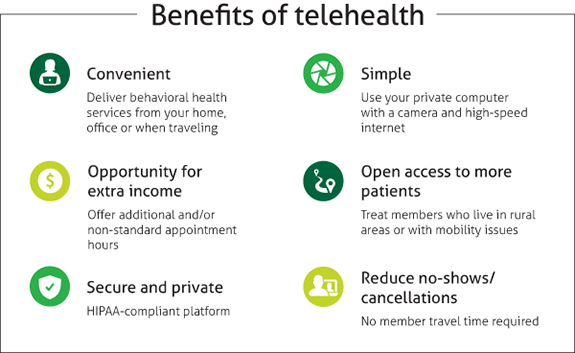 Telehealth attestation
NOTE: During the COVID-19 crisis, Magellan is not requiring providers to complete an attestation prior to using telehealth. Learn more at MagellanProvider.com/crisis.
You must complete and submit a brief telehealth attestation to provide behavioral health services via telehealth. Note that this form requires your Magellan MIS number; if you do not know your MIS number, call us at 1-800-788-4005 to request it.
For more information
Review our frequently asked questions (PDF).
Refer to the Telehealth Services page in Section 3 of our provider handbook (PDF).
Contact your Magellan network field representative or the national Provider Services Line at 1-800-788-4005 to learn more.
Additional resources
Telehealth billing
After you complete your telehealth attestation, you can begin delivering care via telehealth for members for whom it is a covered benefit.
Note: Coverage for codes is subject to the provisions and limitations of the subscriber's benefit plan including authorization requirements. Nothing in these documents should be construed as altering subscriber's benefits.