Telehealth
Your same high-quality professional services… delivered in a new way.
Treat members at a place and time that fits best into your schedule – and theirs. Through telehealth, you can have real‐time, two‐way communication via secure online virtual sessions.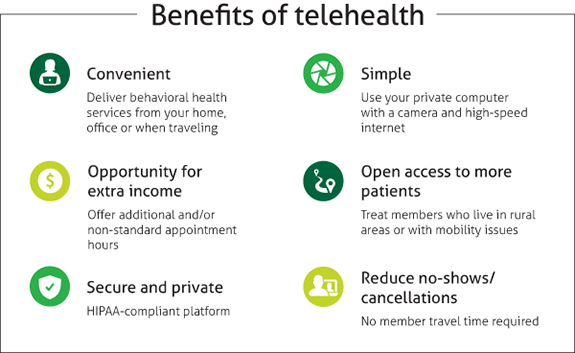 For more information
Review our Frequently Asked Questions.
Refer to the Telehealth Services page in Section 3 of our provider handbook.
Contact your Magellan network field representative or the national Provider Services Line at 1-800-788-4005 to learn more.
You will need to complete and submit a telehealth attestation if interested in providing behavioral health services via telehealth. Note that this form requires your Magellan MIS number; if you do not know your MIS number, call us at 1-800-788-4005 to request it.
Additional resources